Our Scottsdale Sprinkler Repair Team Does It All

Your Scottsdale sprinkler repair experts offer a variety of services to meet almost every kind of sprinkler problem. When you hire our services, you can be sure you will receive great help with your sprinkler problems at a reasonable price. Our services include but not limited to the following: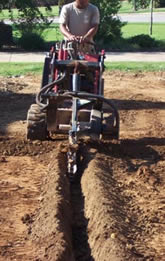 If you need a valve in a specific size, Scottsdale Sprinkler Repair offers a variety that can meet your needs.
Is your controller broken and not working effectively? Your Scottsdale sprinkler repair experts can repair the old one or install a new one. We offer both indoor and outdoor controllers.
Do you think that you have a break in your main line? Our most dependable and highly capable technicians can diagnosis and repair this problem.
Is your wiring old and frayed? This can be a huge problem, but we can easily repair it for you.
If you experience problems when it rains or freezes, you may need new sensors. As the definitive authority in sprinkler repair in Scottsdale, we can provide them for you.
If you have broken pop ups and uneven rotators, then we can repair them for you.
Many of our customers like to depend on us for twice yearly inspections, in the fall and in the spring, to make sure that their sprinkler systems are ready for seasonal weather. You make the schedule and we will be there on time.
There are times when you'll need to reroute your sprinkler system, like for new additions to your yard. This is something we do regularly, and you can rest assured that we can get it done quickly.
We install new rain sensors or repair older ones.

Our Sprinkler Repair & Installation Team is Just a Call Away!

As the experts in sprinkler repair in Scottsdale, AZ, if you have any issues with your system, we can fix them and even install a new one for you. Call today for rates and availability.