We're There For Your Fountain Hills Sprinkler Repair Needs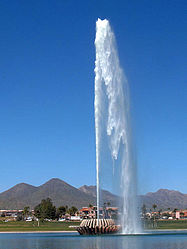 When your sprinkler system starts acting up, there's no time to waste. A faulty sprinkler system anywhere is a pain, but in Arizona's scorching summers it's a recipe for disaster. Just a few days without water and half of your landscape will burn brown, shrivel, and die.

That's why you can't afford to have anyone short of the best Fountain Hills sprinkler repair technicians on call to get your system back into the fighting spirit. All of our technicians are fully trained, fully insured, fully certified, and fully ready to take on whatever your sprinkler system can throw at them. We've worked with every brand, every make, and every piece of equipment, which means there will never be any nasty surprises. Our entire team lives in the area, which means that we're familiar with all local water usage restrictions here, in Scottsdale, and in Paradise Valley, which means that your irrigation system will always be up to code. That may not seem mission critical today, but when it comes time to think about selling your property, you'll be glad you played by the rules.
---
Your Fountain Hills Team Goes Beyond
Now that you know who to call for your Fountain Hills sprinkler repair needs, who do you call for your landscape design, hardscape installation, outdoor lighting design, and all the rest? Trick question - it's still us! We're always adding new services to our offerings, so never hesitate to call us with your questions. Chances are, if we don't know how to do it, we know someone who does. We don't recommend any companies who don't share our standards and ethics, so you can rest assured you'll get the help you need, whatever it may be. Call us any time for:
Fountain Hills sprinkler repair, installation, diagnostic, and system addition services
Landscape design services, including many landscape installation services
Hardscape installation services, including stone walkways, stucco and terra cotta features, retaining walls, BBQ islands, fire pits, and more
Outdoor lighting design, repair, and installation