Scottsdale Drip Irrigation Specialists

We're Scottsdale drip irrigation specialists, whether you need drip irrigation installation, repair, maintenance, or modification. Whether you have a small leak or a giant flood, we'll fix it. And whether you need to water a small garden or a large commercial landscape, we'll install it. For a free quote, call 602-702-5442 today.
Why Drip Irrigation?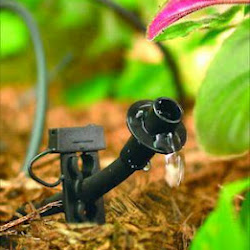 Don't water harder – water smarter. Drip irrigation is an automatic watering system that does the work for you. Why should you use them?
They save you time. Drip irrigation is set to timers that automatically release water on a set schedule. You don't have to worry about watering plants yourself, so you can go about your day while the plants get watered on their own.
You save money on the water bill. Watering your plants yourself can be a hassle – and it also costs more. It's impossible to control exactly how much water comes out of the hose when you do your own watering. Unless you are extremely disciplined – and water exactly the right amount for exactly the right amount of time in exactly the right places – you will end up wasting water.
But with a drip system, the amount of water that comes out is controlled, precise, and on- time…every time. Water is delivered as closely as possible to the root of the plant, which is where it needs to go. This lets you conserve water and cut back on weeds, which tend to sprout up when you water a large area.
Your Scottsdale AZ lawn stays healthy – and protected. Damage can occur when you water too much. Or too little. But when you install a drip irrigation system, you can rest assured that your lawn will get just the right amount of water.
To learn more about our drip irrigation installation services, call 602-702-5442 today.
How We Help Scottsdale Lawns Stay Green…Affordably

Our team prides itself on providing top quality services at reasonable prices. We strive to do the best job we can, and we aren't satisfied until your system is 100% functional – and you're 100% satisfied.
Here's how we can help you and your lawn:
We'll install a drip irrigation system for you. Our team has worked with drip irrigation systems, sprinkler systems, and other landscaping projects for years. We've seen it all – from the big to the small and everything in between. So when you work with us you'll know that we can do the job right, whether you need to water a small garden or a giant football field.
Our Scottsdale AZ drip irrigation team will repair and upgrade your irrigation system. If you've got a problem with your system, give us a call and we'll send someone over to take care of it. We're happy to help with small fixes, big repair jobs, or part replacement. And when you decide it's time to add more coverage area to your system or redesign it, we're here to help.
Maintenance, spring startup, and winterization services. Like any other piece of hardware, your irrigation system needs to be tuned up every so often. We'll perform systems checks and help you get ready for the winter or spring seasons so your system doesn't break down on you. For an on-site inspection and a free quote, call 602-702-5442 today.
---

CALL NOW!
602-702-5442
---